Contract Manufacturing Services

You design it. We make lots of it. So it's there when you need it.
Options include:
Antibodies from any source (ours, yours, or our competitors)
Dried or liquid formats
Exclusive DURA Innovations
Flexible delivery terms
Quality control (QC) testing on request (per your validation method and specified acceptance criteria)
| | |
| --- | --- |
| | Your singular resource for bulk orders of made-to-specification antibody cocktails* — from experts in flow cytometry. |
Why choose Beckman Coulter Life Sciences as a trusted resource for bulk antibody cocktails?
You can save time by simplifying inventory management and streamlining your workflows.
Use this calculator to quickly estimate approximately how much you might save.
You can optimize QC by minimizing the potential for errors/variability.
Your order will include a complimentary evaluation lot for you to validate and approve.
Your cocktails will be manufactured following GMP** in ISO 9001-compliant facilities.
Compare RESOURCE with other Custom Reagent Services.
Why waste precious internal resources when you have a reliable resource partner for bulk production of the antibody cocktails you need?
Discover how CMS Contract Manufacturing Services** can help optimize your lab's productivity.

About the ordering process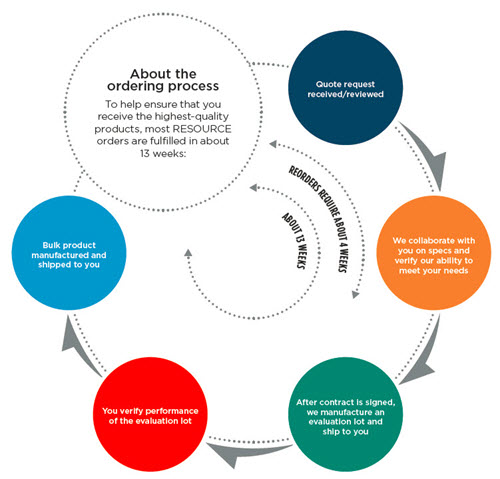 Contract Manufacturing Services Ordering Process
Repeat orders of the same products are delivered on the requested date if prior intimation of the delivery is mentioned at the time of signing the contract or an advance notice of 9 weeks is provided.
*These products have no regulatory status. Customer is solely responsible for validating them. **Currently available only in the United States. If your lab is outside the US, consult with your local Beckman Coulter Life Sciences representative about your interest to make this service available in your country.
**GMP as defined in ISO 13485